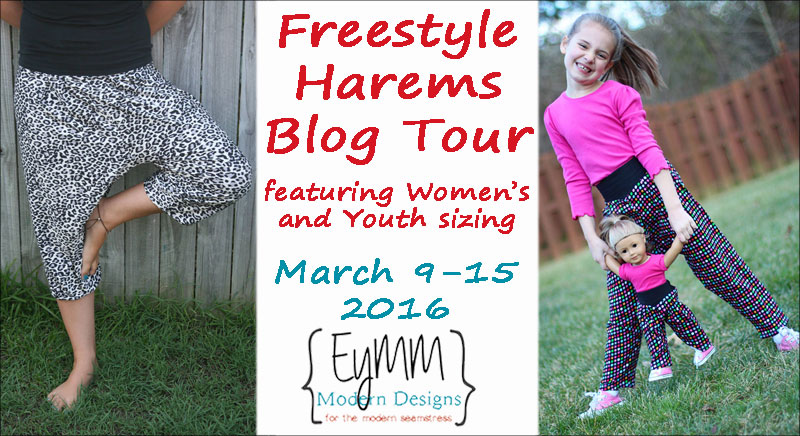 I signed up for this blog tour, not knowing exactly when it would happen. I love participating in the
Everything Your Mama Made
(EYMM) Blog Tours - so it didn't really matter, I'd find the time. Well the blog tour dates were announced as I was getting ready for vacation. So I selected the last day of the blog tour, to make sure I'd be home and able to get my post up on time.
Make sure to check out the rest of the Freestyle Harems Blog Tour during the next week. (Note: The links below won't be live until their scheduled date.)
During the blog tour, you can get the Freestyle Harem Pants on sale! Use code FREESTYLE to save 25% on the
women's
or
youth
sizing or on the
bundle
, expires at 11:59pm PST on 3/15/2016.
I was headed to southern California on my vacation, and decided these pants would be perfect for my trip. The
Freestyle Harem's
can be made with a variety of materials - wovens or knits, and had options for length and hem style. I decided to go with a Bohemian kind of look and found this cool border print lightweight woven in my stash. I purchased this fabric at Golden D'or during one of their inventory sales and paid $1/yard.
Normally, I take photos of the sewing process, but I honestly didn't have time. I finished sewing the pants on a Saturday and we were leaving on Monday.
Here I am in my Freestyle Harems. They are really comfortable. I fell between the Medium and Large size and decided to go with a Medium. The fit is good, and they were actually very easy to make.
Well, it ended up too cold to wear this on my vacation. We had snow the first night! Each day it warmed up to the low 70's, but we started each day in the upper 30's or low 40's. But I will definitely get some use from these as it gets warmer.